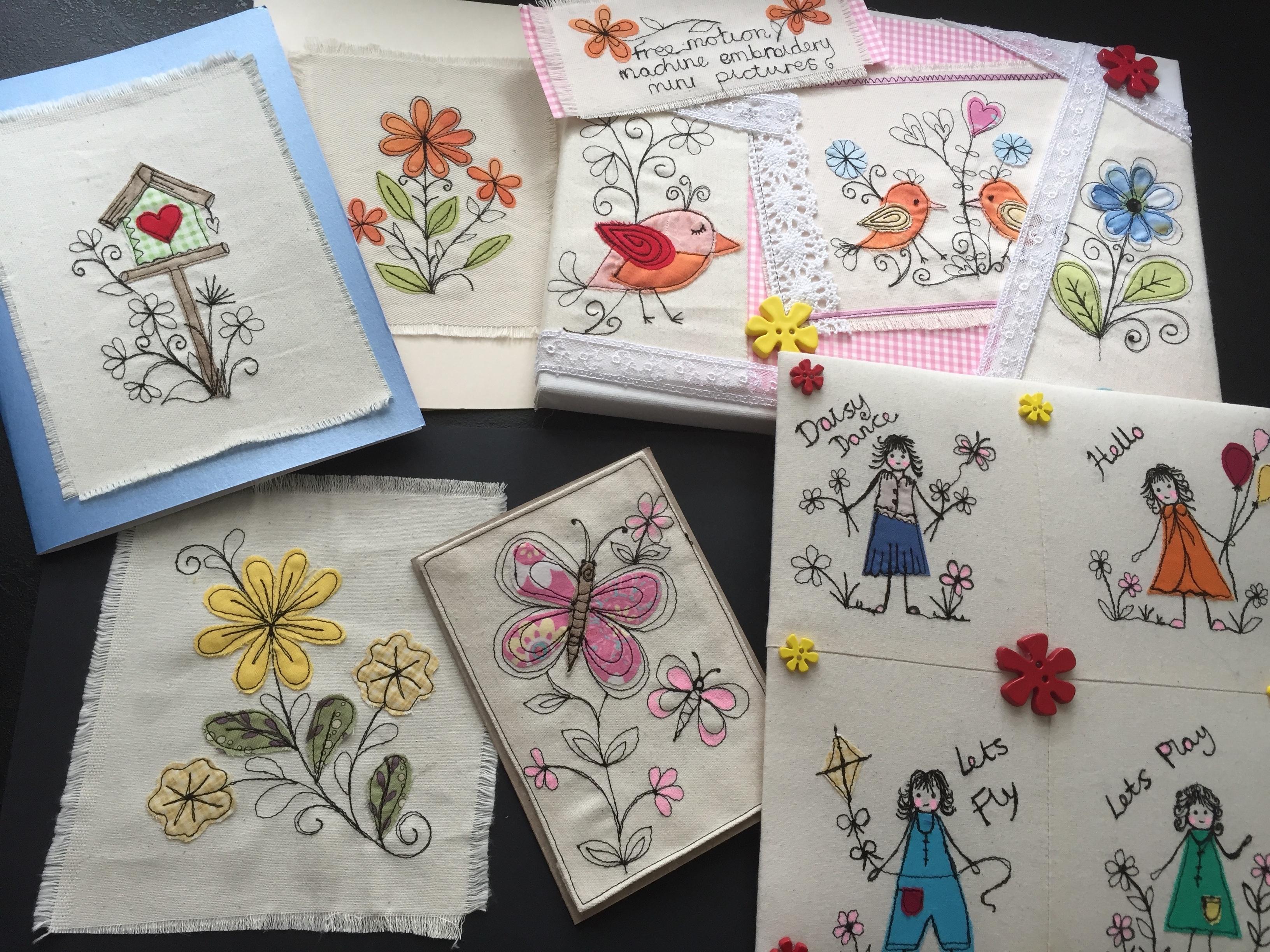 2019/09/13: Free Motion Mini Appliques
Friday 13 September 2019
Tutor Kathleen Laurel Sage
Duration 10am - 4pm
In this fun filled class for all levels we will explore using small pieces of fabric up from our stash to create little mini applique pictures that can be used for cards, pictures and small wall hangings. Find your inner freedom to draw with your sewing machine adding detailing to simple shapes to transform them into small whimsical delights. Be prepared to go home with several unique creations and the skill to carry on and create a larger project.
---
Want to be notified when this product is back in stock?
Complete the form below and we'll send you an email when it is.
Requirements
Sewing machine with drop feed dogs option or a plate to cover the feed dogs
Free motion machine embroidery foot
Size 80 and 90 machine needles
Large reel of black thread. Poly, rayon or cotton. For top of machine and to go in the bobbin
Calico fabric as background. Quite a stiff type if you wish to frey the edges or a softer one if you wish to fold edges or quilt.
Lots of different cotton fabric scraps in small florals, larger prints, stripes, plain, mottled, etc
Scraps of cotton lace. [optional]
General type bonda web ¼ metre
505 spray
Black frixion pen to mark out
Plain card. To fold and make cards from your appliques
Selection of themed buttons and bits and bobs, beads and sequins to decorate
Small pieces of left over wadding. you may wish to go for a small wall hanging.
General workshop equipment i.e., pen, pencil, ruler, note book, tracing paper, needles, tacking thread, Large and small very sharp scissors
For most classes and workshops, you will need to bring your own supplies and equipment; a list of specific requirements is sent via email at the time of your booking. When materials are included or supplied by the tutor, this will be stated in the class description.
All workshops and classes must be paid for in full. We are sorry, but sometimes we have to cancel a class due to circumstances beyond our control. If this arises we aim to give you 10 days' notice and a full refund. If you need to cancel your class booking, we require a minimum of 10 days' notice in order for you to receive a refund (less £3 administration charge). No refund can be given if less than 10 days' notice is given.