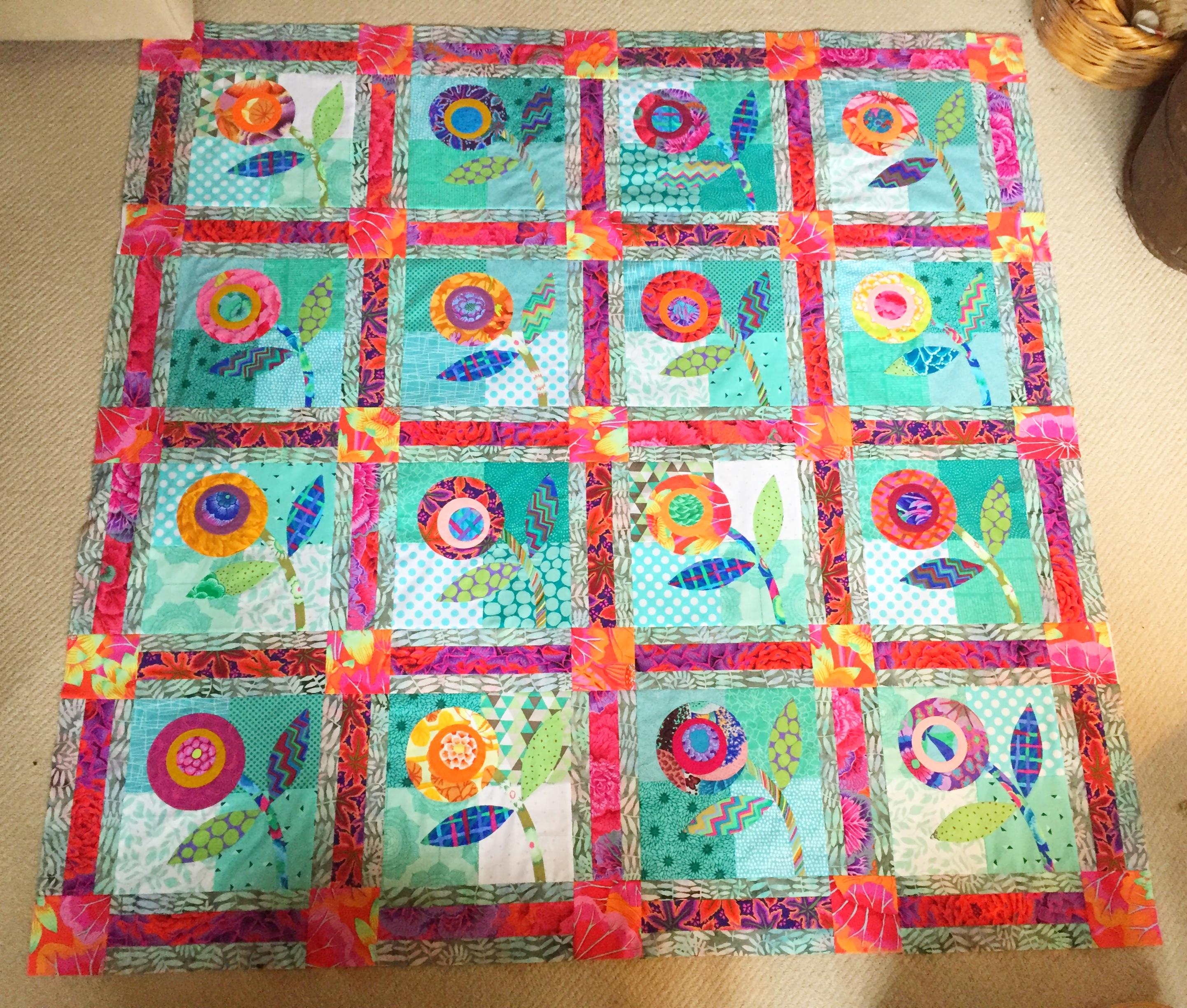 2019/09/06: Lollipop Flowers
Friday 6 September 2019
Tutor Stuart Hillard
Duration 10am - 4pm
A fun day with Stuart learning his technique for Turned edge Applique with your sewing machine... from his new book "simple shapes, stunning quilts"
Flowers always make me happy...from the most sophisticated arrangement to a wild flower growing by the side of the road and they inspire many of my quilt designs and colour schemes.  Simplicity of shape and repetition of the block allow me to go completely crazy with colours...bright turquoise prints make for an exciting "neutral" background and to top it off, raindrop quilting!  Always remember, "No showers...no flowers!"
---
Want to be notified when this product is back in stock?
Complete the form below and we'll send you an email when it is.
Requirements:
For one block you will need (block size 10")
Four assorted turquoise prints for the block background, each 5 ½" x 5 ½"
Three assorted bright scraps for the flower ...7" squares of each is plenty
Two assorted green scraps for the leaves
One ¾" wide bias cut strip of fabric for the stem
A 3/8" bias tape maker.
Spray starch, a small childs paintbrush, large pieces of card from a cereal box...the front and back is plenty, a small iron (travel irons are ace!) and a pressing surface.
Sewing machine, cutting mat, ruler, rotary cutter and sewing kit 
For my quilt I've made 16 lollipop flower blocks and set them with pieced sashing... I always think it's best to choose sashing fabrics after you've made the blocks and "audition" them... you'll need 1 m of each of two fabrics  and ½ metre of one more for the cornerstones.
For most classes and workshops, you will need to bring your own supplies and equipment; a list of specific requirements is sent via email at the time of your booking. When materials are included or supplied by the tutor, this will be stated in the class description.
All workshops and classes must be paid for in full. We are sorry, but sometimes we have to cancel a class due to circumstances beyond our control. If this arises we aim to give you 10 days' notice and a full refund. If you need to cancel your class booking, we require a minimum of 10 days' notice in order for you to receive a refund (less ?3 administration charge). No refund can be given if less than 10 days' notice is given.