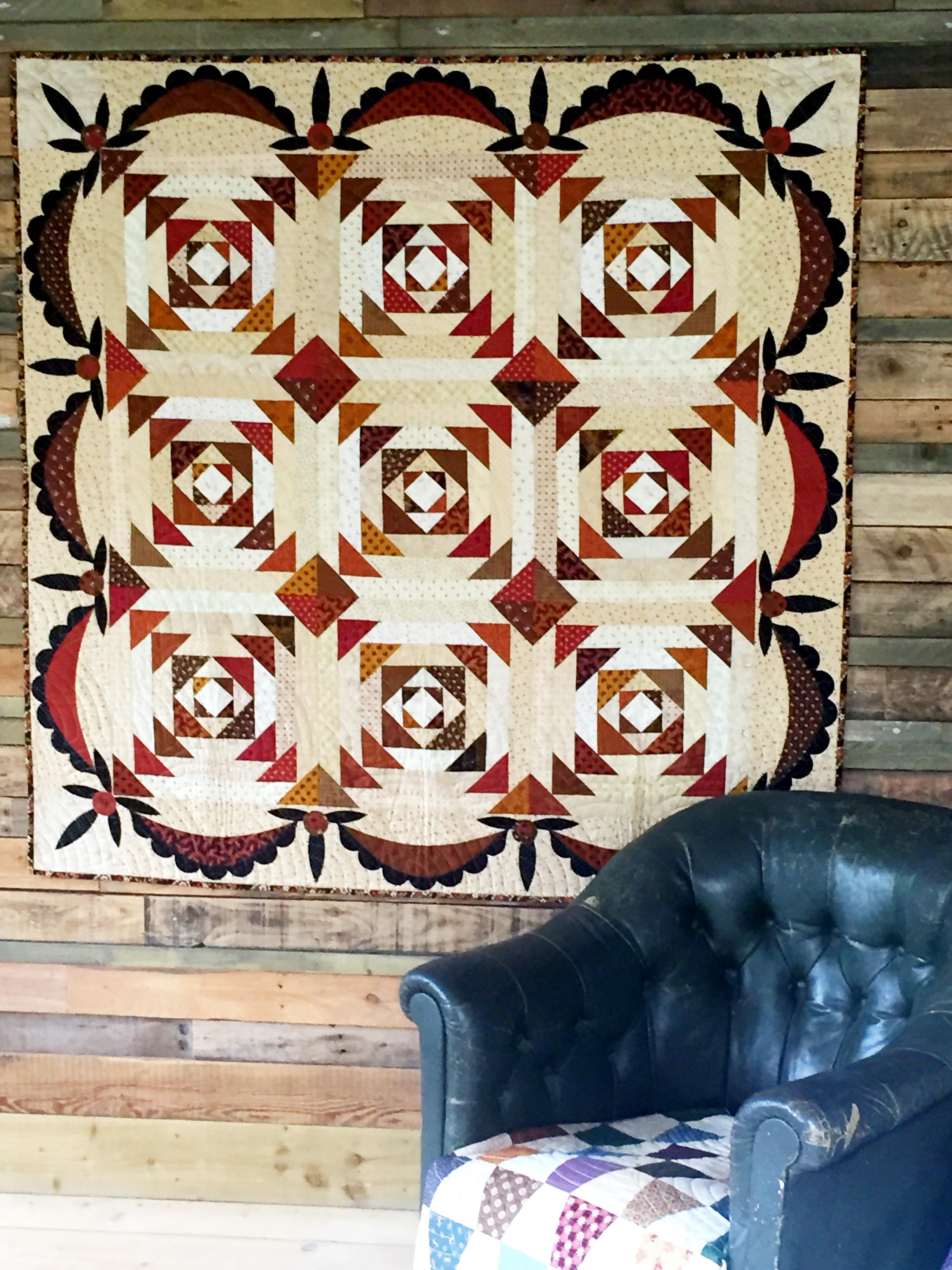 2019/09/07: Pineapple Log Cabin
Saturday 7 September 2019
Tutor Stuart Hillard
Duration 10am - 4pm
A fun day with Stuart learning how to create this fabulous block from his new book "simple shapes, stunning quilts"
Log cabin blocks never fail to please...they have a fascinating history, endless variations and would you believe this quilt is made with only strips and squares...no triangles at all!
---
Want to be notified when this product is back in stock?
Complete the form below and we'll send you an email when it is.
Requirements:
For one block you will need (block size 15")
20 assorted scraps of various rust and copper brown prints...16 of them cut to 3 ½" squares, the remaining 4 cut to 2" squares...mark the diagonal on the back of all 20 squares  lightly in pencil.
From an assortment of cream and light tan prints cut the following:
One square 3 ½" x 3 ½" for the block centre
Round one: Two strips each 2" x 3 ½"
Two strips each 2" x 6 ½"
Round two: Two strips each 2" x 6 ½"
Two strips each 2" x 9 ½"
Round three:  Two strips each 2" x 9 ½"
Two strips each 2" x 12 ½"
Round 4: Two strips each 2" x 12 ½"
Two strips each 2" x 15 ½"
Sewing machine, cutting mat, ruler, rotary cutter and sewing kit
This quilt would look awesome in batiks, amazing in bright modern prints and a pop of black and white of go with your favourite fabric collection! 
You can prep a few blocks ready for the class or get ahead of the game and prep all nine blocks...that way you can just enjoy sewing at the workshop although you will still need scissors. 
Additional fabrics for the border and appliqués...plus fusible web... this border is optional of course! 
For most classes and workshops, you will need to bring your own supplies and equipment; a list of specific requirements is sent via email at the time of your booking. When materials are included or supplied by the tutor, this will be stated in the class description.
All workshops and classes must be paid for in full. We are sorry, but sometimes we have to cancel a class due to circumstances beyond our control. If this arises we aim to give you 10 days' notice and a full refund. If you need to cancel your class booking, we require a minimum of 10 days' notice in order for you to receive a refund (less ?3 administration charge). No refund can be given if less than 10 days' notice is given.