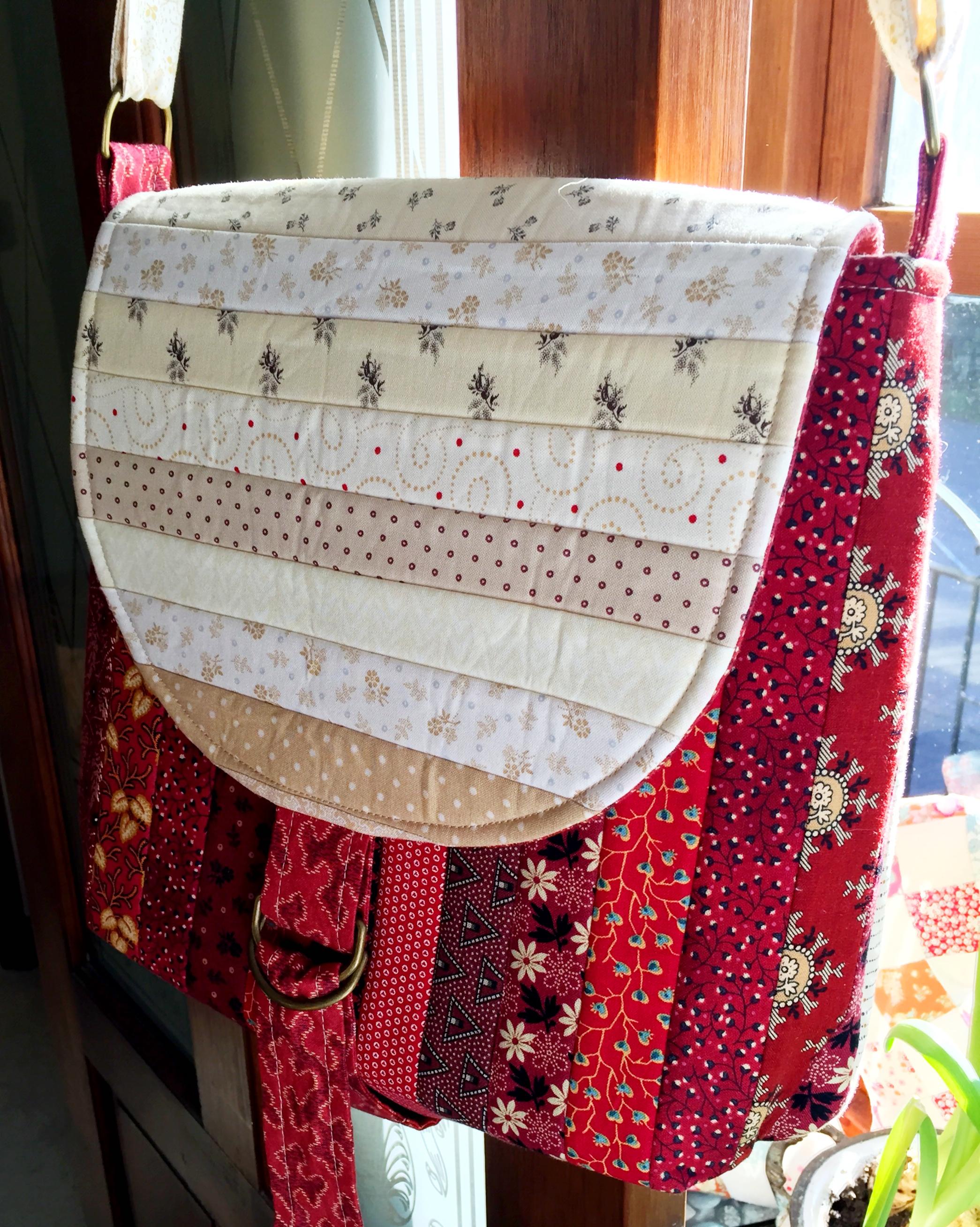 Stuart Hillard - Barcelona Bag - 21/03/2020
Saturday 21st March 2020
Tutor Stuart Hillard
Duration 10am till 4pm
Come and spend a fun day with Stuart Hillard making a fabulous strip pieced and "quilt as you go" cross body bag with roomy outer pocket on the back and optional zipped inner pocket.Perfect for everyday use and great for breaking into your stash of 1 ½" strips and scraps! 
---
Want to be notified when this product is back in stock?
Complete the form below and we'll send you an email when it is.
Requirements:
30 strips of assorted fabrics for the outer pieced bag panels... each strip needs to be 1 ½" x 14"
10 strips of assorted fabrics for the outer pieced bag flap...each strip needs to be 1 ½" x 12"
1 metre toning fabric for the outer pocket, pocket lining, bag lining, flap lining and shoulder strap... if you want to make an internal zipped pocket in the lining bring an extra fat quarter of lining fabric and a regular matching 7" zip
2 ½" x 15" strip of contrast fabric for the outer pocket binding
4 x D rings for the flap closure and shoulder strap attachments.  Each D ring must have a 1 ½" wide opening. 
1 x matching strap slider...again with a 1 ½" opening
1 package of Bosul one sided fusible foam
½ metre medium weight fusible interfacing (the sort used for dressmaking...get the sort that's about the thickness of lightweight paper...
Matching thread (good for piecing and top stitching)
Pins, rotary cutting equipment, scissors, a chop stick
Sewing machine with a ¼" foot and a walking foot (optional but useful!)
Mini iron is useful but not essential. 
For most classes and workshops, you will need to bring your own supplies and equipment; a list of specific requirements is sent via email at the time of your booking. When materials are included or supplied by the tutor, this will be stated in the class description.
All workshops and classes must be paid for in full. We are sorry, but sometimes we have to cancel a class due to circumstances beyond our control. If this arises we aim to give you 10 days' notice and a full refund. If you need to cancel your class booking, we require a minimum of 10 days' notice in order for you to receive a refund (less ?3 administration charge). No refund can be given if less than 10 days' notice is given.