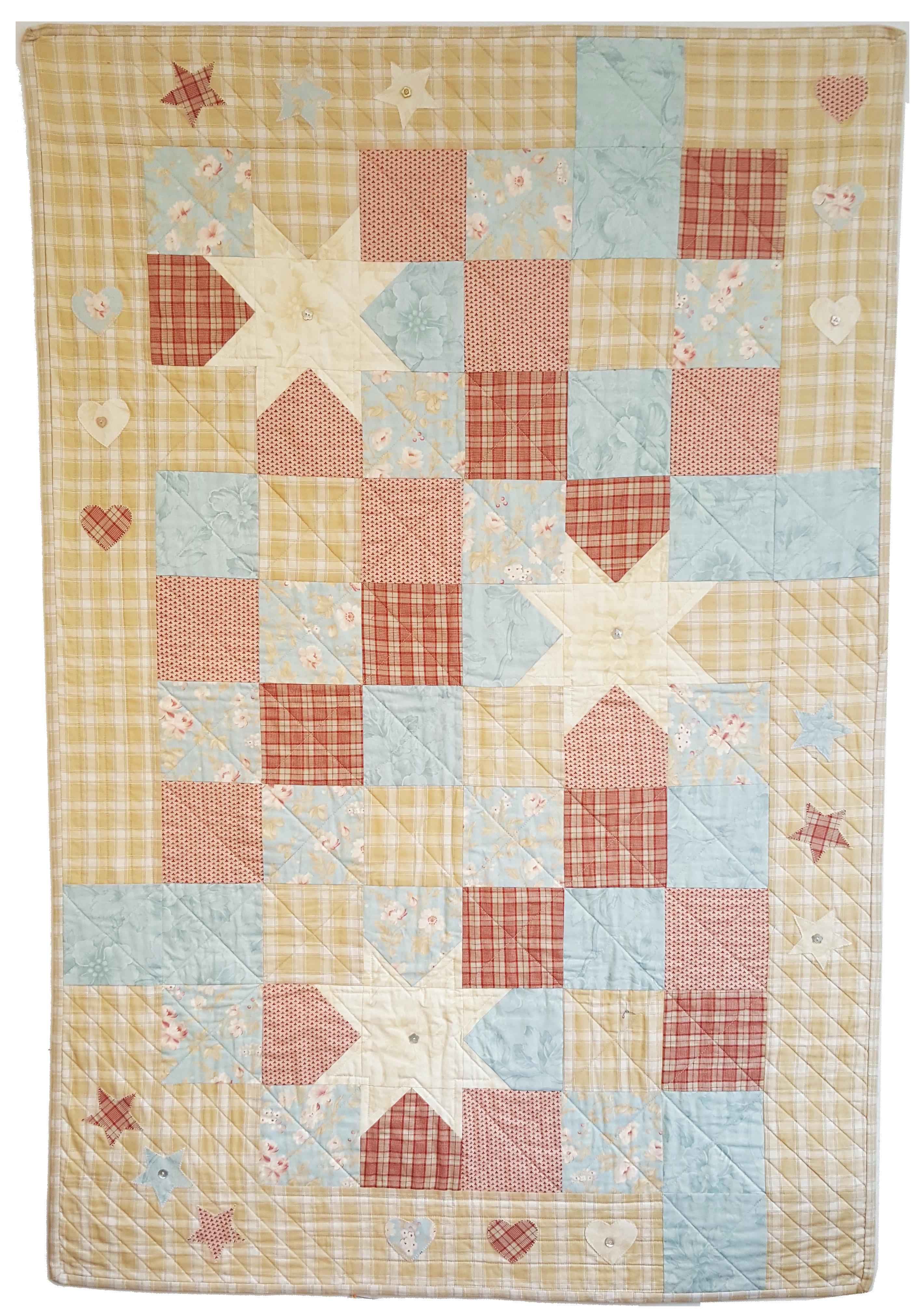 Linda Chevin Hall - Patchwork for Beginners Summer School - 3 days commencing 13/07/2020
13th, 14th & 15th July 2020
Tutor Linda Chevin-Hall
Duration 10am till 4pm Over 3 days
Come and spend three days making a beautiful quilt.  This course is suitable for the complete beginner or those wanting to improve their patchwork skills.  There are two quilts available to choose from which cover all the skills needed to make your quilt.  Also there will be lots of demonstrations and handouts to keep.
---
Want to be notified when this product is back in stock?
Complete the form below and we'll send you an email when it is.
Requirements
Sewing machine, manual and all feet (a walking foot is needed for the quilting)
Scissors and pins
Rotary cutter, mat and ruler
Pencil and notepad
Thread to match fabric
20cm Bondaweb (for applique option)
 Requirements for Star Quilt - measuring approx 36in x 54in
1.2 metres of main fabric for squares, border and binding
4  assorted fat quarters (small designs work well)
1 fat quarter for stars
1.6 metres of backing fabric and 40in x 58in piece of wadding
Requirements for Square on Square Quilt
5 assorted fat quarters
1/2 metre of contrasting border fabric
3/4 metre background fabric
1.5 metres of backing fabric and 40in x 56in piece of wadding
40cm fabric for binding
For most classes and workshops, you will need to bring your own supplies and equipment; a list of specific requirements can be seen above. When materials are included or supplied by the tutor, this will be stated in the class description.
All workshops and classes must be paid for in full. We are sorry, but sometimes we have to cancel a class due to circumstances beyond our control. If this arises we aim to give you 10 days' notice and a full refund. If you need to cancel your class booking, we require a minimum of 10 days' notice in order for you to receive a refund (less £3 administration charge). No refund can be given if less than 10 days' notice is given.