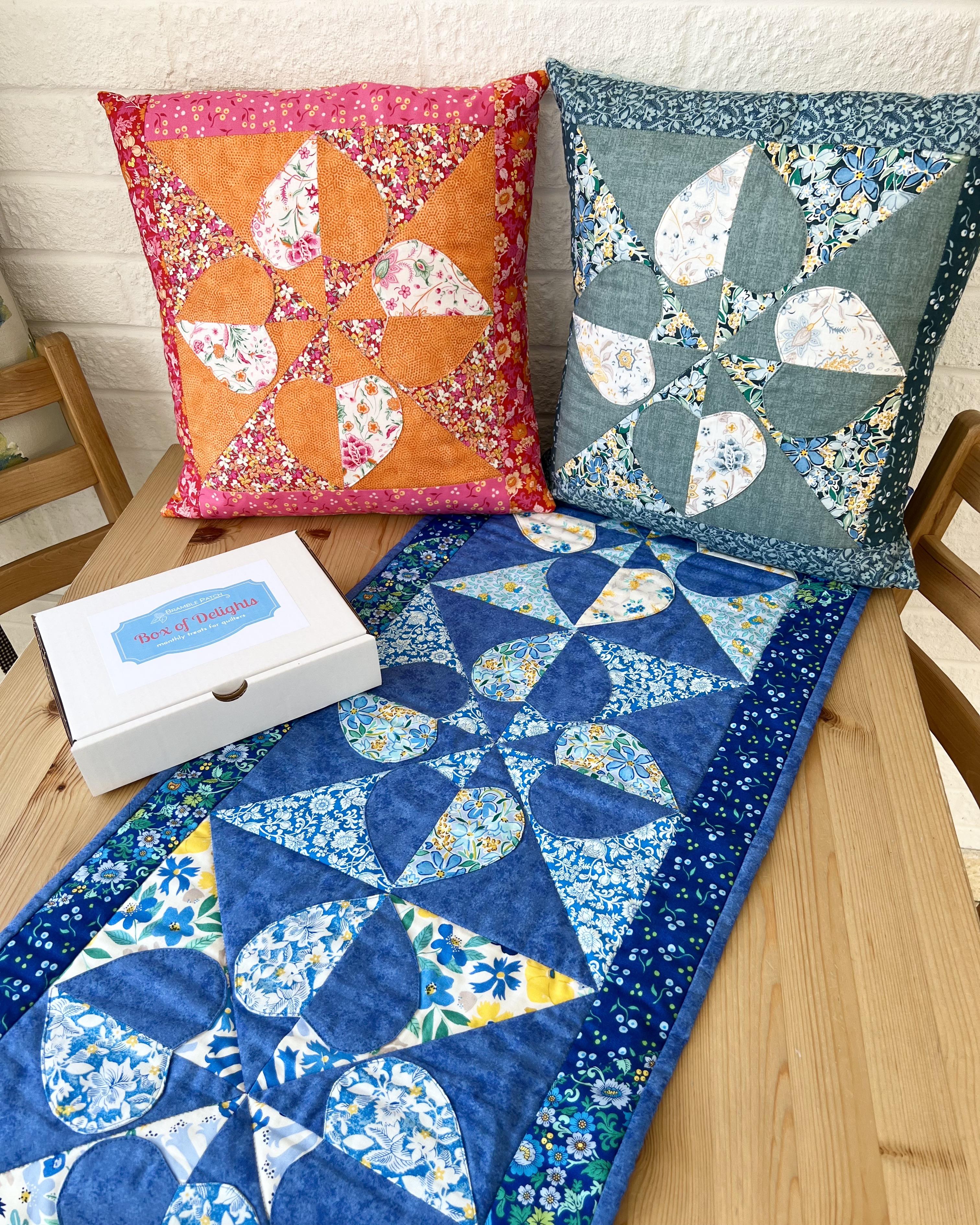 Click the image to enlarge
Hover over the image to zoom
Box of Delights (April 2022 edition)
April 2022 BOX OF DELIGHTS
Our original quilter's subscription box!
The monthly Box of Delights includes quality patchwork fabric from brands you know and trust, haberdashery and our own pattern surprises every month, selected and curated by the Bramble Babes.
But what if you just fancy a box from one of the previous months? well this is the perfect product for you ... 
What's in the box…
Liberty - The Artists Home Collection:  8 x fat eighths
This collection from Liberty has been hugely popular and takes its influences from historic creative retreats including Charleston Farmhouse, Yves Saint Laurent's Jardin Majorelle in Marrakech and Barbara Hepworth's sculpture studio & gardens on the dramatic Cornish coast. The collection is available in three distinct colour stories: rich and bright oranges & pinks, cool watercolour blues and yellows, and finally a softer palette reflecting sculptural materials of wood, stone & metal, in jade greens, soft blue & teals. 
We are sending you one of the colour stories in this month's box but don't worry about missing out – the other stories are available for you to order – if you have any queries just give us a call. 
Co-ordinating blenders: x 50cm
To compliment each of the colour stories and to complete either of this month's patterns, we have included a blender fabric which we feel tones perfectly with your feature fabrics. And should you wish to purchase more or complete your stash with all the collection and blenders here are the reference numbers to order them:
-    'Red / Orange' colour story – Dimples by Makower – 1867 O1
-    'Blue / Yellow' colour story – Spraytime by Makower – 2800 B07
-    'Blue / Teal' colour story – Linen Texture by Makower – 1473 B5
Iron-on Vilene+:
This month's patterns include a technique called 'turned applique' and we strongly recommend using light weight iron-on vilene to create the applique pieces for the pattern. So, we have included plenty for you to use this month.
Patterns:
Bramble stitcher Jacky has created a stunning block for you this month which can either be used in a gorgeous table runner or cushion, as illustrated in the patterns enclosed. She has used a turned applique technique to created delightful heart shapes and if this technique is completely new to you we apologise for just how addictive this technique is and for how many new projects you will want to start using this fun & simple method of achieving beautiful curved applique shapes – enjoy.