Professional Long-Arm Quilting Service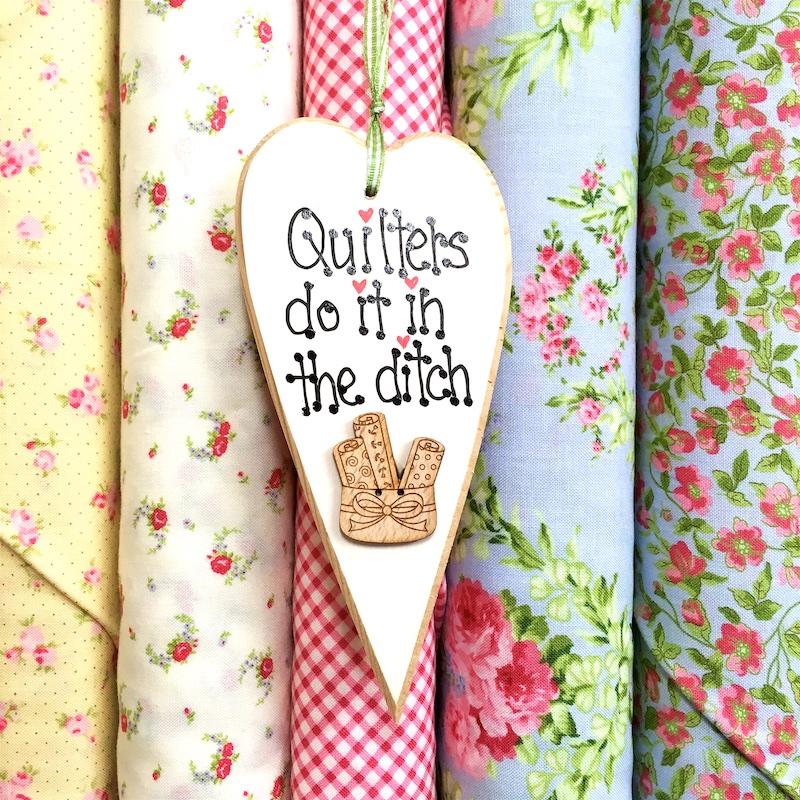 We are currently only offering edge-to-edge quilting and basting services.
You must phone the shop to book an appointment, we can't take quilts in without one.
If you're looking for someone to quilt your tops, you need to be sure that the result will be the quality you expect. No-one wants to spend hours piecing a patchwork top only to worry about whether you can trust the long-armer who's finishing it!
We've been long-arm quilting since 2001 and our highly experienced long-arm team (it's the machines that have long arms, not the staff!) quilt over 500 quilts a year on Bertha and Beryl, our two Gammill machines with Intelliquilters.
It can be hard to manipulate a large quilt on a domestic sewing machine, especially if you have a small space to sew or mobility issues. And some people love to piece patchwork but just don't enjoy the quilting.
So our professional long-arm quilting service is a boon to many customers who trust us to finish their patchwork tops with beautiful quilting.
"Please could you pass on my thanks to the ladies in the quilting room. I am so thrilled with the quilt that you have just quilted and bound for me. It is absolutely beautiful and I know that if I had tried for a hundred years I would never have achieved the wonderful results you produced.
"Many thanks and in future will have all my large quilts finished by you ladies. Will spread the word about how professional and good you all are." (Lynne G)
Our quilt room team are all trained in-house, and new long-arm quilters train for several months before being allowed to work on customer quilts – initially they work on practice pieces and then shop samples, and only graduate to customer quilts when we are confident their skills meet our quality standards.
We offer a huge choice of quilting designs from simple edge-to-edge overall patterns right through to unique custom quilting. The quilt room team will help you to choose the perfect quilting pattern and thread colour to turn your pieced or appliquéd top into a beautiful quilt. They can also advise on wadding and backing fabrics to complement your work.
"Thank you to the people who I spoke to on the phone, you were so helpful. Thank you the person who quilted my quilt – it's marvellous, and I'm so very pleased. Thank you also to the lady who put the binding on and rang to say my quilt was ready. Thank you all, it's like speaking to a friend! I know you all must care for the quilts you quilt." (Susan P)
Prices for edge-to-edge quilting
Our edge-to-edge quilting is suitable for almost all quilts, giving a lovely soft finish that drapes well and doesn't make the quilt feel stiff. We have hundreds of lightly quilted designs covering the whole of the quilt top for you to choose from, with everything from basic meanders to specific motifs like flowers, feathers and footballs! You can find some examples of edge-to-edge patterns here, but we have many more to choose from.
If the size of your quilt falls between the sizes shown, the price will be adjusted accordingly. Prices include the cost of thread which you can choose when your quilt is booked in.
| Size of Quilt | Price |
| --- | --- |
| Cot (up to 40" x 40") | £120 |
| Small (up to 50" x 60") | £145 |
| Lap (up to 60" x 70") | £155 |
| Large Lap (up to 65" x 80") | £170 |
| Single (up to 70" x 90") | £185 |
| Large Single (up to 80" x 95") | £205 |
| Double (up to 90" x 100") | £215 |
| King (up to 95" x 105") | £220 |
| Large King (up to 106" x 110") | £235 |
Prices for basting
For hand quilters who find layering and basting tedious or difficult, we offer a basting service. This gives you a perfectly layered quilt with a grid of easily removable stitches. Cotton thread is included in these prices.
| Size of Quilt | Price |
| --- | --- |
| Small (up to 50" x 60") | £90 |
| Medium (up to 70" x 90") | £95 |
| Large (up to 90" x 100") | £100 |
| Huge! (up to 106" x 110") | £120 |
Prices for binding
If you hate binding (we know lots of you do!) we can do it for you. We offer a double-fold continuous binding with mitred corners. This is machine stitched to the top of the quilt and either hand finished by us or supplied ready for you to slip stitch to the back.
| Size of Quilt | Attached to Front | Hand Finished |
| --- | --- | --- |
| Small (up to 50" x 60") | £75 | £60 |
| Medium (up to 70" x 90") | £80 | £70 |
| Large (up to 90" x 100") | £85 | £80 |
| Huge! (up to 106" x 110") | £90 | £90 |
Delivery and return of your quilt
You can bring your quilt top in any time the shop is open or post it to us if you prefer. If you need to post it, remember to insure it with the post office or courier. When your quilt is ready, we will ring to let you know so you can collect it, or we can return it by post. The postage and packaging charge will include insurance.
For more help, advice or answers, please feel free to ring us on 01327 342212, contact us or have a read of our FAQs page.