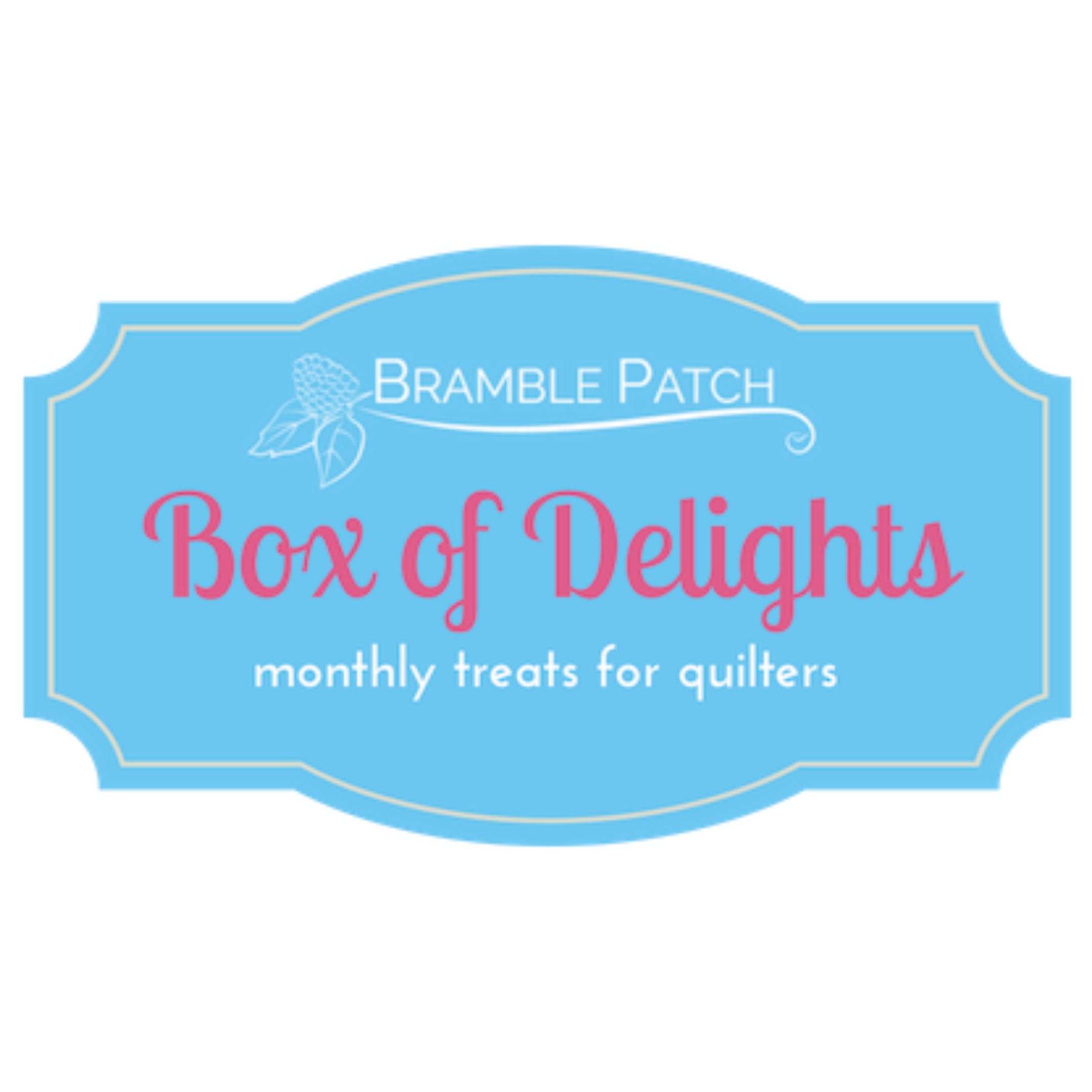 Click the image to enlarge
Hover over the image to zoom
2020 Box of Delights (Non-UK customers) Subscription
Our original quilter's subscription box!
The monthly Box of Delights includes quality patchwork fabric from brands you know and trust, haberdashery and our own pattern surprises every month, selected and curated by the Bramble Babes. We were the UK's first specialist patchwork and quilting subscription box and over the years since we've shipped thousands of boxes to many hundreds of happy subscribers who tell us they love the anticipation and surprise of receiving and opening their boxes each month.
What's in the Box?
Well, that's a surprise!
Each month we aim to provide new and beautiful, top quality quilting fabric, useful haberdashery and a unique project that will get you excited about making and entice you into your sewing space! Every box includes fabric (of course), haberdashery/notions and at least one pattern. The fabric may be pre-cuts, fat quarters, fat eighths, or something else. But you will always get something in those three categories.
For delivery in the UK, postage and packing is included in the cost. Outside the UK, postage and packing is added at our usual rates.
When do I get my Box?
Payments are taken on the 28th of each month (when you sign up you'll get a confirmation of your order, but no money will be taken until the following 28th). Boxes are then despatched via Royal Mail in the first week of the following month. (Eg, if you sign up on 10 May, your payment will be taken on 28 May, and your box despatched at the beginning of June.)
Please do not contact us about non-arrival until the 10th of the month at the earliest – in most cases your box will arrive in due course and we cannot chase it with Royal Mail until 10 days after it has been despatched.
Lots of lovely quilty surprises delivered to your door every month – what could be more delightful?
---
Recommend this product to a friend or loved one
You will receive 5 Reward Points for every £10 your friend spends on their initial order.
Your friend will get £5 off their first order.
LOGIN TO REFER YOUR FRIEND
Please note that the Box of Delights is a subscription product. You are signing up to receive a box each month until you choose to cancel.
There is no option to select the contents or to receive boxes on approval.
To order a subscription as a gift, just enter the recipient's details in the Delivery Details section at checkout. We'll send the box directly to them.
Subscription payments are taken on the 28th of the month for the box sent at the beginning of the following month. 
IF YOU WISH TO CANCEL, PLEASE DO SO BEFORE THE 28TH OF THE MONTH TO AVOID RECEIVING THE NEXT BOX.