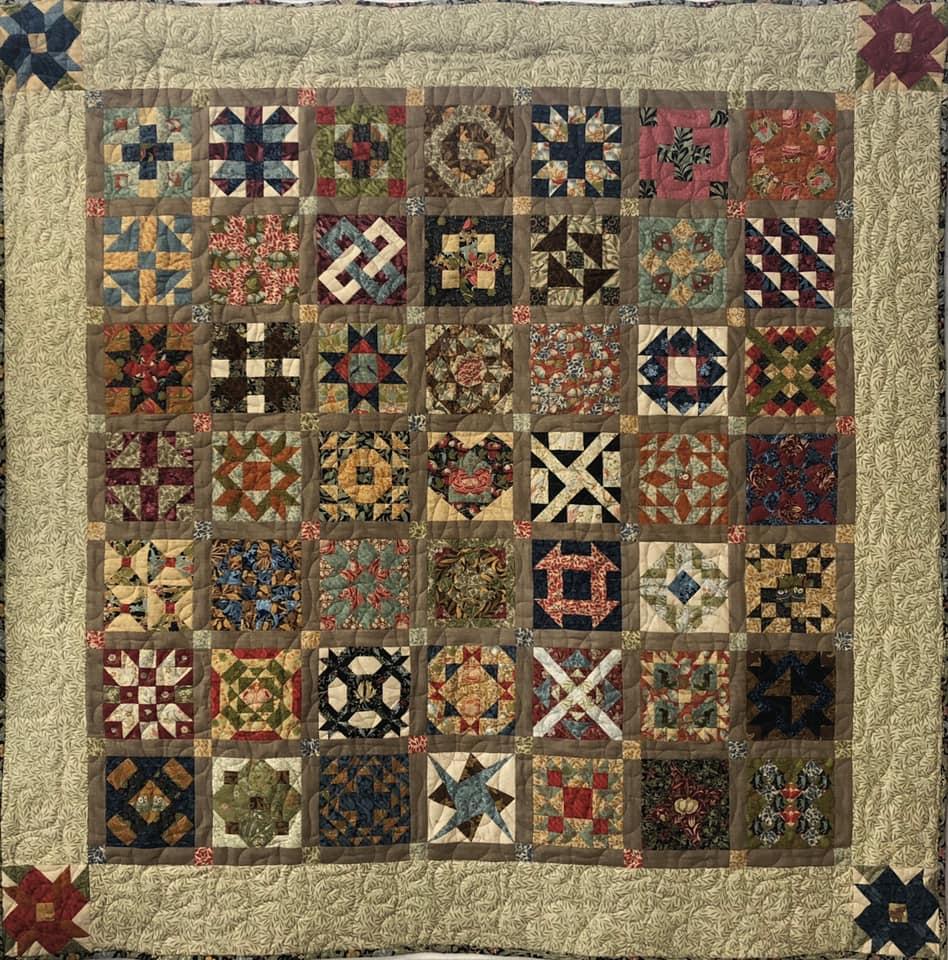 News
Alzheimer's Society Fundraisers : "Quilt Down Memory Lane" and "Heart Full of Memories" BOMs
We have received a lot of requests recently for help with various initiatives to provide supplies like fabric and haberdashery for making scrubs, drawstring bags, masks, and so on, for the NHS, as well as appeals for people to help make them.
We really applaud all the generous and community-spirited people behind these projects and we recognise that, as a quilt shop that holds a lot of charitable events, we are probably at the top of your list as a business that could help out.
Sadly, however, like all small retail businesses at the moment, we are facing significant challenges right now, including keeping our online business open and responsive for customers with a skeleton staff.
We have been considering how we can contribute in the current situation, and have decided that, for the moment, we will continue to support our chosen charity, Alzheimer's Society, with our memory quilt block-of-the-month programmes (and other initiatives coming soon). We feel that while this is a scary time for all of us, for people living with dementia and their families it must be even more difficult and frightening and we know that charities of all sorts are facing funding challenges.
We'll continue to consider how else we might be able to help, but for now, if you'd like more info on our Quilt Down Memory Lane and Heart Full of Memories BOMs in aid of Alzheimer's Society, all the details are below.
Alzheimer's Society Block-of-the-Month programmes
For a minimum donation of £25.00 to our JustGiving page we will email you the patterns for quilt blocks.
Both quilts are designed for you to use your own fabric stash and therefore we only supply the patterns. In addition, the patterns are designed for hand piecing using EPP (English paper piecing) and therefore are ideal projects for learning new skills, including drafting quilt blocks on paper and hand sewing (ideal for when you fancy some sewing while sat out in the glorious sunshine – if it's safe – or catching up on the box sets or films). However, the patterns can be translated into machine sewn blocks should you prefer.
We have two quilts to choose from, both designed by our own EPP expert Alicia : Quilt Down Memory Lane 2019 and Heart Full of Memories 2020.

Quilt Down Memory Lane 2019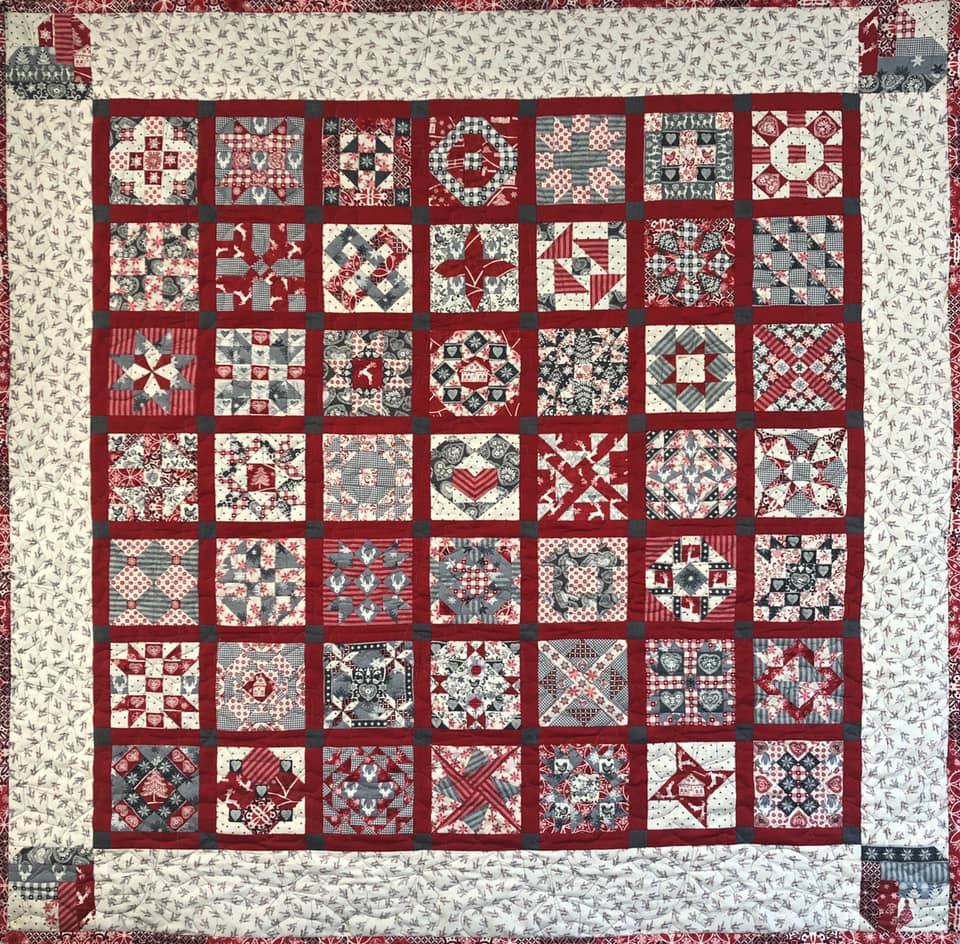 Example of finished "Quilt Down Memory Lane"
The 2019 quilt is made up of 5" traditional blocks and includes sashing, cornerstones and a border. The finished size is approx. 60" x 60". As this quilt was completed last year you will receive ALL the patterns now (sent via several emails).
Heart Full of Memories 2020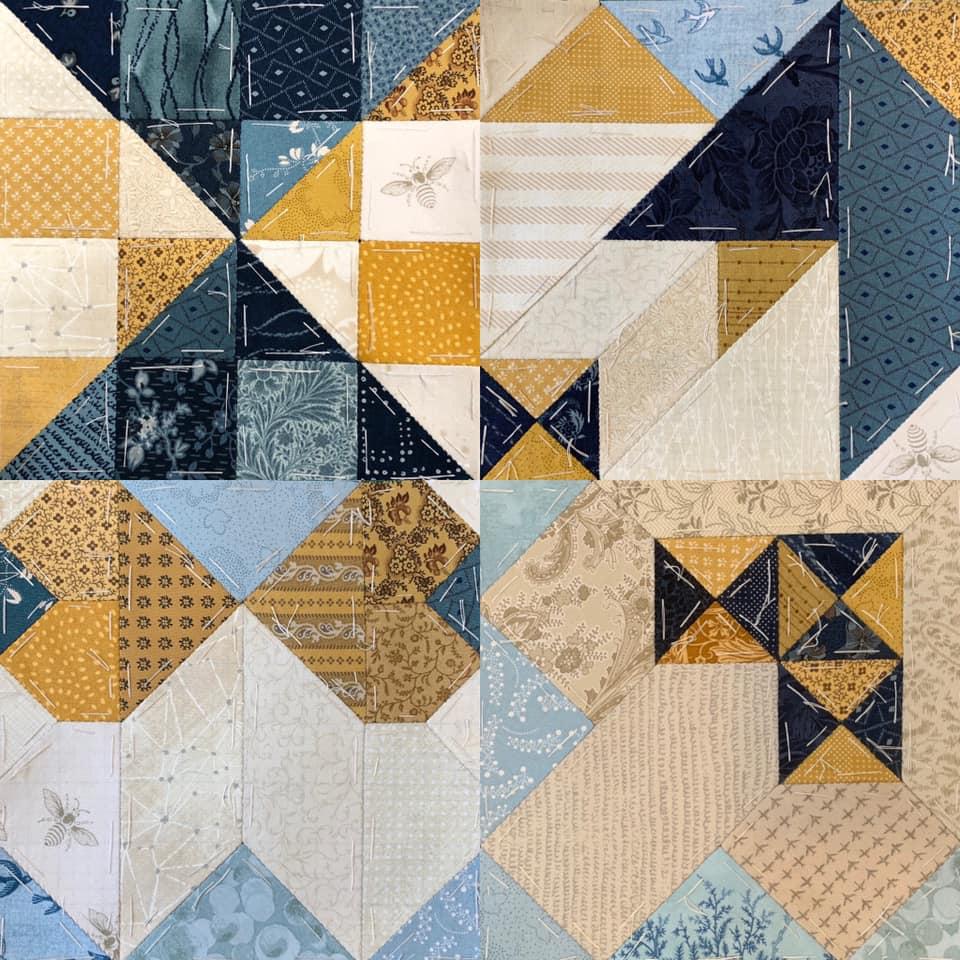 Sample blocks from "Heart Full of Memories"

The 2020 quilt is a MYSTERY QUILT made up of 8" blocks. There will be a total of 49 blocks and the finished quilt will measure a minimum of 56" x 56". The patterns are sent via email usually weekly but due to current circumstances they are being sent in batches (so far we're up to week 15). The block patterns won't make much sense as you sew them but trust us, you will love the finished design so just be patient and enjoy the 'journey'. This quilt will need you to choose a specific colour theme using two different colours and a background colour (more details available once you sign up).
We hope this gives you enough information to help you decide which of the quilts to create – or maybe just do both, we have enough time right?
Here is the JustGiving link again : Bramble Running Stitcher JustGiving page
Once you have made your donation, please email Alicia to confirm the donation and which quilt pattern you want to subscribe to, and she'll do the rest.
And remember the completed quilt is all yours – a treasured memory, a gift for a loved one, or to donate to charity fundraising.