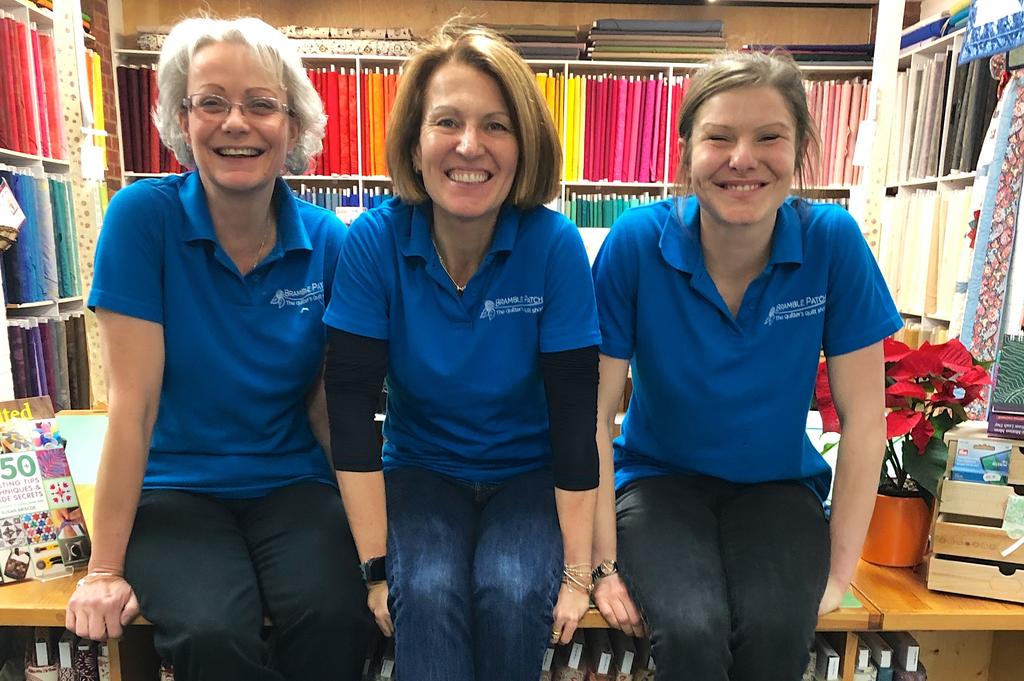 News
Running Stitchers take on the London Landmarks Half-Marathon for Alzheimer's Society
The Bramble Patch Running Stitchers are back!
In 2017, our Running Stitchers team of Bramble Babes Alicia, Emma and Tracy impressed us all by running the Birmingham Black Country Half-Marathon to raise funds for Macmillan Cancer Support – they trained hard, ran well and donated £1,285 from friends, customers and Bramble Patch.
In 2019, the Running Stitchers team is tackling another 13.1 miles on 24 March – the London Landmarks Half-Marathon – and this time they will be raising funds for Alzheimer's Society, our new official charity. We do hope many of our customers and friends will join with us to kick off our efforts to support a charity whose vision is a world without dementia.
The team
This year's team is made up of Bramble Babes Tracy, Sally and Alicia and they're already training hard as the race is only 9 weeks away. Some background on the Babes who are running:
Tracy is head of our experienced long-arm quilting Babes and is no stranger half-marathons (last year alone she ran three of them) and is in fact using the London Landmarks as final preparation for running the famous London Marathon in April. Yes, that's the whole 26 miles! Tracy is well into her training so by the time 24 March comes round, we're sure she'll breeze through a mere 13.1 miles!
Sally is our main office Babe and the youngest and newest member of the Running Stitchers. She's a footballer and boxer and this will only be her second half-marathon but she's super fast! At the Christmas Flore Five Mile Charity Run, she even "beat the Christmas pudding" which is a rare event. (Don't worry if you don't know what that is because most of the Babes don't either, but apparently it means you're very quick!)
Alicia needs no introduction to most of you as our Bramble Clubs Babe and EPP queen. She only started running in 2017, but has run four half-marathons in the last year and is feeling the need for a new impetus after the disappointment of not getting a place in the London Marathon with Tracy. Alicia has decided that all of 2019's runs will be about creating or celebrating memories in locations with a personal significance – and it all kicks off with the London Landmarks for Alzheimer's Society.
The Running Stitchers have made a commitment to Alzheimer's Society to raise £2,200 from their efforts so Bramble Patch are asking family, friends, customers and fans to sponsor them in support of the fight against dementia.
How to support them
Please donate via the team's Just Giving page: the Running Stitchers.
And to thank you...
After the generosity of everyone in 2017, this time we've come up with a special thank-you for our best supporters – the brand-new Quilt Down Memory Lane Club.
As a thank-you for donations of £25 or more, we will subscribe you to our new Block-of-the-Week Club. Each week we'll email you a pattern for a 5" x 5" patchwork block that can be hand or machine pieced. There are 53 different blocks and with a simple border, you'll have a unique lap quilt (approx 60" square). The project is suitable for using up scraps or making a dent in your stash; or, if you prefer we can help you choose fabrics or put together a bespoke fabric pack for you.
Just let us know when you've made your £25+ donation and we'll add you to the Quilt Down Memory Lane Club.