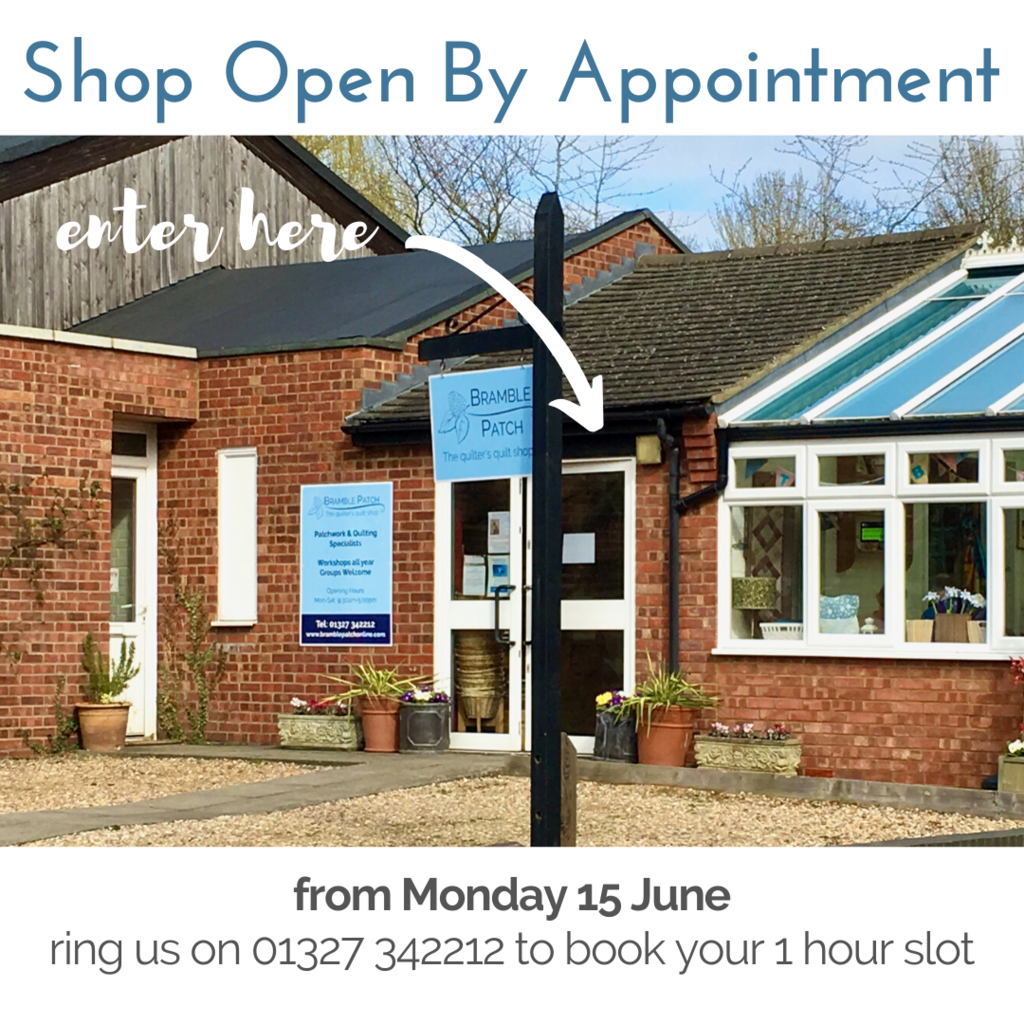 News
We are Open By Appointment from 15 June 2020
Great news! Bramble Patch will be open again – but by appointment only – from Monday 15 June 2020. We'll be trialling this system for two weeks, after which we'll be able to review and adapt as necessary.
Here's what you need to know :
the shop will be open for pre-booked private shopping appointments only
each appointment is for 1 hour with slots available from 9.30 – 3.30, Monday – Saturday
you must ring us (01327 342212) to book your appointment
there is only one appointment available at a time so you will not need to mix with other customers
up to four people from the same household may attend the appointment
our staff will maintain proper social distancing but will be available for assistance with cutting and advice
We have been working hard to make sure you can shop safely so things will be a little different when you arrive for your appointment :
please only arrive at the main entrance, where there will be hand sanitiser for you to use before entering the shop
you may browse and shop in our fabric and haberdashery areas as usual but please do not enter the office, the quilt room, the coffee shop or kitchen
toilets are available as usual
if you need cutting, please take bolts to the cutting area in the main hall where we'll cut them for you
when you're finished shopping, please make payment (via card if possible) at the pay station in the main hall
please exit the shop via the back door, where there will be hand sanitiser for you to use as you leave
We are not able to offer sewing machine demos, although we can order Janome and Bernina machines for delivery if you have already decided what you want.
From 22 June, Andy from Sew Northampton will be re-starting his weekly collection service from us for machine servicing and repairs (provided guidance doesn't change).
Finally, the quilt room is still accepting quilts via post for our quilting service, and we are working on a system for safe in-person bookings, but please let us know if that's the reason for your visit so we can advise whether it's possible yet.
Thank you for continuing to shop with us and we have just one small request – if the opportunity arises, especially online, please recommend us to fellow quilters! New quilters especially may not have come across us yet and personal recommendations are valuable to them as well.
We're looking forward to seeing you again!