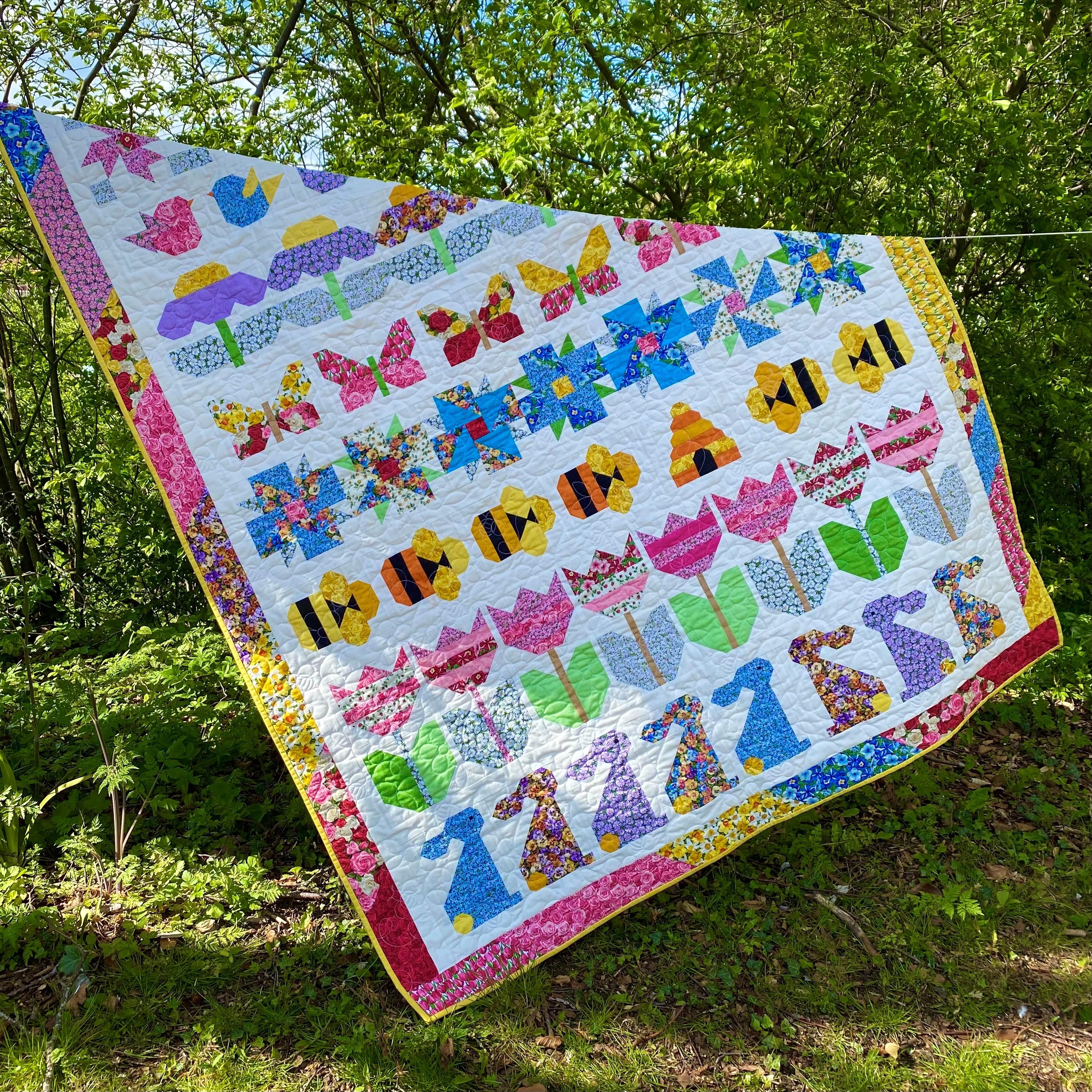 Click the image to enlarge
Hover over the image to zoom
Summer Garden Sew-A-Row - MACHINE PIECED - Subscription - Available to order NOW
Summer Garden Sew-A-Row 2021
To celebrate the sense of optimism we have for this summer, Bramble Stitcher Julie has designed one of our most delightful & joyous quilts. Let us proudly introduce 'Summer Garden-Sew-A-Row'. Cute bunnies, birds, bees & butterflies all enjoying rows of beautiful blooms and created in the 'Summer Garden' fabric collection. 
This 'Sew-A-Row' is a 6 month project . Fabric packs will be sent out on TUESDAY 1ST JUNE and the patterns will be EMAILED out on the 15th of each month (commencing Tuesday 15th June).
The quilt is MACHINE PIECING and the finished size will measure approx. 62" x 78".
Your kit will include:
19 x long quarters of Summer Garden fabric collection
11 x fat eighths of Makower Dimples fabric (various shades)
2.9m of textured backing fabric 
ALL instructions & patterns EMAILED MONTHLY
You will pay £15.00 per month over a 6-month period (starting on the 28th May) plus a one off payment of £140.00 which must be paid at the start of the project before your fabric is sent out. This can be paid either by phone, in store or using your subscription details - you decide how and when - just let us know what works for you.
Important details you need to know:
Once you subscribe your first payment of £15.00 will be taken from your credit / debit card on 28th May 2021 to secure your subscription. Your remaining 5 x monthly payments will commence on the 28th June 2021 with the final payment taken on 28th October 2021.
A one off payment of £140.00 must be paid to ensure you receive your fabrics to start the project in June.  This can be paid when convenient to you either by card over the phone or with your consent using you subscription card details. Please note that if we haven't received the payment by FRIDAY 28TH MAY 2021 an automatic payment will be taken from the debit / credit card details used for the subscription.
All your fabric will be sent out on TUESDAY 1ST JUNE 2021.
All instructions and patterns will be emailed to you on the 15TH OF EACH MONTH.
If you have any queries please don't hesitate to contact us.
 * Any customer wishing to subscribe OUTSIDE the UK please contact us directly to discuss.
** Total cost of the quilt is £230.00